In 1928, a worker accidentally unearthed a figurine from a tin mine in present-day Nigeria. It was the first indication of an advanced culture that flourished from as early as 900BCE to 500CE. We don't know much about the ancient culture or even what they called themselves. Archaeologists termed the finds the Nok Culture, named for a village near the tin mine.
Nok artifacts included nearly life-sized sculptures of animals and people made of terra cotta, which is clay baked in an oven. The ancient Nok constructed furnaces to smelt clay and iron ore at a very high temperature. Iron is very malleable, which means it can be reshaped into weapons and plows. Most ancient cultures discovered other metals such as copper and bronze before iron, but the Nok moved directly from the Stone Age to the Iron Age without having a Copper or Bronze Age. In addition to the figurines, excavators uncovered tools and ornaments made of stone and iron.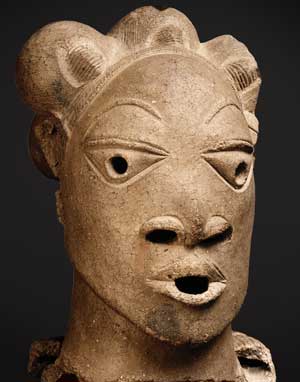 The sophistication of the objects led archaeologists to believe the Nok based their terracotta figurines on woodcarvings. However, any wooden artifacts would have disintegrated long ago in the humid climate of West Africa. The refinement of the objects suggests that the Nok civilization likely existed years before the oldest artifact.
In time, excavators found similar figurines in a 60,000 square miles region of northwest Nigeria — an area larger than the American state of Georgia. A 2005 study reported that over 1000 artifacts were illegally unearthed and smuggled to private collectors in Europe and the United States.
Ancient Nok Resources
Mr. Donn has an excellent website that includes a section on Africa.